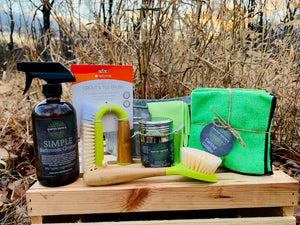 The essentials to cleaning your bathroom in a wonderfully nontoxic way. You want the surfaces you wash and do business in to be clean and safe for your family, so we've put together a kit to make that happen.
WHATS INSIDE?
Earthy Edith's E-Cloth Window/Mirror Cloth
Galvanized brass handled caddy comes with each order or custom Wood/metal Caddy option
We are now proud to offer our very own wood and metal caddy, crafted and designed right in Pennsylvania. Everything fits wonderfully in both our caddy's. Stores perfectly in any bathroom cabinet or even on top of your porcelain throne.